---


Axmar Schmuck - Axmar Jewellery
---
| | | |
| --- | --- | --- |
| Die von Axmar gefertigten Schmuckreife kann man einer von zwei Klassen zurechnen. Der Typ Hephaistos oben im Bild wird aus flachem Metall gefertigt, die Ringe des Typs Talena in der unteren Bildhälfte entstehen aus Rundmaterial. | | Bracelets made by Axmar can be grouped into two categories. The Hephaistos series uses flat metal and a few examples are show in the upper row. The Talena rings below are made from material with a circular cross section. |
---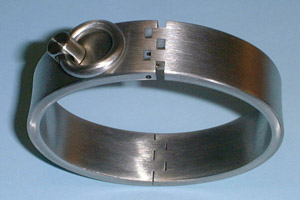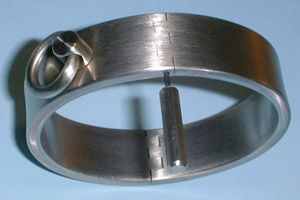 Bei einem Reif der Serie ist ein Madenschraubenverschluß die Standardvariante. Diese erreicht ein kleiner Imbusschlüssel durch ein kleines Loch an der Schmalseite. Optional kann man zum Kaufzeitpunkt sich auch für die unten gezeiget Variante "Klick" entscheiden, bei welcher ein Schlüsselchen nur zum Öffen vonnöten ist.
The standard method to lock a ring from the Hephaistos series is grub screws that one can operate with the help of a minute Allen key put through a small hole. Optionally one may specify the version "Klick" at time of order, this mechanism shown below requires a little key only to open the ring.

---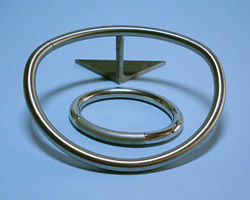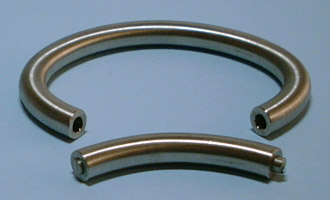 Bei den Talena-Reifen wird das Einsatzstück normalerweise durch die Federkraft des C-Teils gehalten. Es gibt aber auch die Möglichkeit einer zusätzlichen Sicherung mittels Madenschrauben beim Halsreif oder federnd gelagerter Paßbolzen bei den Gelenkringen.
In case of the Talena bracelets the elasticity of the C shaped part usually keeps the ring closed. If one desires a locking mechanism grub screws are possible for the neck ring. A sprung cylinder can be used for the wrist and ankle bracelets.


---