---


Folter - Torture
---
Folter war in früheren Zeiten ein legitimes Mittel, um verdächtigte Personen zu Aussagen zu bewegen. Allerdings darf bezweifelt werden, daß dies immer der Wahrheitsfindung zuträglich war. Sie paßt nicht in die heutige Zeit.
In former times torture had been a letigimate mean to make suspects talking, although doubts are justified of whether one always came closer to establishing the truth this way. Does not harmonize with today's culture.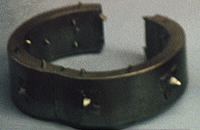 Der Kragen, der im Dogenpalast in Venedig zu sehen ist, mit den innenliegenden Dornen sollte die Person zum Reden bringen, was nach kurz oder lang wegen der andauernden Qualen dann wohl auch geschah.
This collar on display in Ducal Palace Venice with these spikes pointing inwards was to convince to make people talk. Presumably this did happen, the time depending on the strength of the suspect.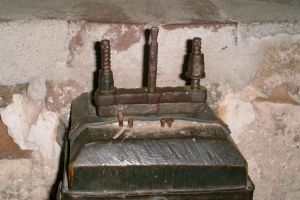 Gemeine Daumenschrauben.
Ordinary thumb screws.
---
Zwar mögen Fesselwerkzeuge manchmal zu Folterzwecken verwendet worden sein, dies ist aber nicht das Thema dieser Seiten.
Restraining devices may have been used for torturing purposes, but such use is not part of the scope of these pages.
---