---


Halsreif Neckring
---
Das Interesse des Museumskurators für Kapselschellen ist in der Fachwelt durchaus bekannt. Bedauerlicherweise fehlte bislang ein entsprechender Halsreif in der Kollektion, inzwischen konnte aber ein entsprechendes Teil erworben werden. Mit der Verfügbarkeit von modernen Verarbeitungstechniken konnte der Verschlußmechanismus vereinfacht werden, er enthält keine beweglichen Teile mehr, wird aber wie beim Kapselschlo&szlig durch eine Kette gesichert.
Within the community the curator's interest for cap lock shackles is no secret at all. Unfortunately the museum was lacking a neck ring with this mechanism in the past, but quite recently such acquisition could be made. Modern manufacturing techniques allowed the simplification of the locking mechanism which no longer contains moving parts but is locked in the same way as a cap lock shackle in using a chain.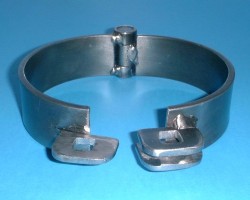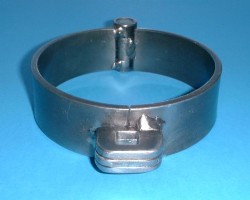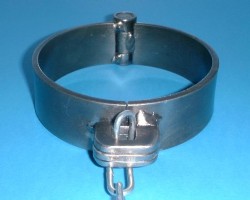 Der wesentliche Punkt des Verschlusses ist das quadratische Loch, durch welches die Kette nur diagonal gefädelt werden kann. Es ist wesentlich, daß die Kette im Quadratloch nur wenig Spiel hat, dann nämlich kommt das nächste Kettenglied schon passend für die andere Diagonalrichtung an. Mit anderen Worten, die Kette und das Loch müssen in der Größe aufeinander abgestimmt sein. Bei der Kette im obigen Bild wurde ein Kettenendglied geweitet, sodaß sich die Kette nur von einer Seite einfädeln läßt.
The crucial detail of the locking mechanism is the square hole through which the chain only passes through diagonally. It is essential that there is only little slack between the chain and the square hole, then the next chain link will already arrive in the right position of the other diagonal orientation. In other words, the sizes of chain and square hole need to match. The chain shown above had one end link widened so the chain can only be taken out in one direction.

Die untere der beiden Ketten ist deutlich besser geeignet, da sie gedrungener ist und sich weniger verdrillen läßt als die obere Kette, welche jedoch fürs Kettenflechten geeignet ist. Wenn man den Verschluß passend zur oberen Kette fertigt, wackelt die Schelle, wenn man dann doch mal die untere Kette einsetzt. Eine zu dicke Kette paßt aber von vornherein nicht durch das Quadratloch.
The bottom chain is better suited because it is more compact and does twist less, but the top chain allows chain weaving. If the locking holes have been sized to match the top chain there will be noticeable slack if at some point one decides to use the bottom chain. But a chain that is too wide will not pass through the square hole at all.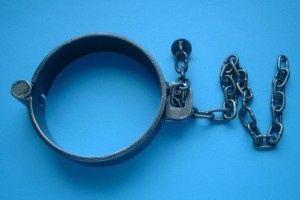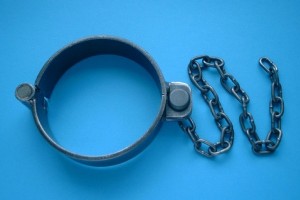 Der Verschluß funktioniert sogar mit einer Kette, welche eigentlich zu einer Replika einer Kapselschelle gehört. Die Scheibe am Ende jener Kette legt sich schön glatt auf die Befestigungszungen. Solch eine Kette gehört eigentlich fix zu solch einem Reif zugeordnet und steht schon auf der Beschaffungswunschliste.
The locking mechanism even is compatible with a chain that actually belongs to the replica of a cap lock shackle. The disc at the chain end nicely ond smoothly covers the square hole. Each such ring ought to have a dedicated matching chain on its own and this is already placed on the list of desired further procurements.
---
Wegen einer leichten Fehlmessung wurde ein zweites Exemplar geordert. Im Vergleich der beiden Exemplare finden sich nun Unterschiede in der Detailausführung.
Because measurements for the first specimen were slightly off a second ring has been purchased. Comparing the two items one can find some differences when looking at details.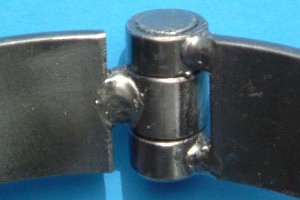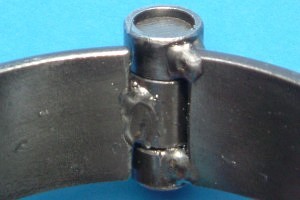 Im linken Photo eine große Lücke zwischen Metallband und Gelenk. Hingegen ist auf dem rechten Photo das Scharnier breiter als das Metallband.
A large gap between metal strip and hinge can be seen on the left photo. And on the right photo the higne is wider that the metal band.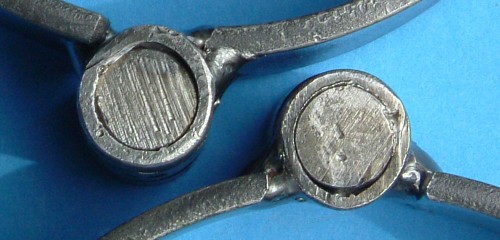 Das untere Scharnier ragt in Rundung des Reifes hinein.
The bottom right hinge is protruding into the ring.


---