---


Metallgliedergürtel Metal Link Belt
---
In der Länge verstellbarer Gürtel, bei dem ein Metallglied das jeweils vorhergehende sichert.
Belt adjustable in length, putting one link in place secures the previous link from being disconnected.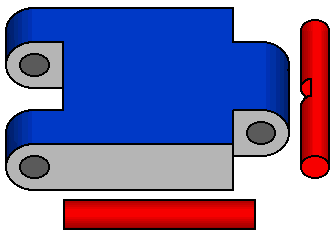 Die Gürtelglieder werden mit Metallstiften miteinander verbunden. Die drei Teile, welche pro Gürtelglied benötigt werden, sind im obigen Bild gezeigt, neben dem blauen Hauptstück die beiden roten Zylinderstifte.
The belt links are connected with metal pins. The three parts needed for each link are shown in the picture above. In addition to the link itself two cylindrical pins are needed which are shown in red.

Der erste Stift mit der Aussparung verbindet zwei Gürtelglieder, der zweite Stift sichert diesen und wird durch ein weiteres Gürtelglied am Herausfallen gehindert.
The first pin with the gap connects two belt links, the second pin secures the first pin in its position. A further link put in place prevents the second link from falling out.

---
Es gibt mehrere Möglichkeiten von Gürtelschnallen. Man könnte erwägen, einen Schnappverschluß zu entwerfen oder einen Kapselverschluß zu implementieren. Hier sind erstmals zwei einfache Beispiele gezeigt.
One can work out several ways of building a buckle. One could think about a locking buckle snapping shut or a fastening mechanism similar to a cup lock shackle. For the moment two simple examples are shown.

Man kann einen Stift in der Mitte mit einer Feder versehen. Zum Öffnen ist der senkrechte Stift von außen mit einer Zange oder ähnlichem zu verdrehen, um den horizontalen Stift herauszudrücken.
Use of a spring-loaded pin. For opening one needs to grab the vertical pin, maybe using pliers, and rotate it to push the horizontal spring-loaded pin out of the groove.

Eine Aussparung an der Nase, in welche der Stift rutschen kann, wenn zwei Glieder senkrecht zueinander stehen. Der horizontale Stift muß im Loch rutschen können.
A cylindrical hole in the nose of a link into which the pin may slide if the two links are placed at right angles. The horizontal pin must be able to slide in the hole.
---