---


---
Die Stadt Linz liegt wenige Kilometer nördlich von Bonn direkt am Rhein. Das Museum der Burg Linz beherbergt unter anderem ein mittelalterliches Verlies und Folterkammer.
Es sind eine ganze Reihe an mittelalterlichen Folterinstrumenten ausgestellt, aber meinem Eindruck soll die Ausstellung einem eher einen Schauer über der Rücken jagen als eine nüchterne, exakte Beschreibung der mittelalterlichen Justiz liefern. Warum müssen die Gegenstände auch immer so richtig rostig aussehen?
Es finden sich jedoch zwei unterschiedliche Ausführungen des Storchen. Über längere Zeit angelegt,sei es für Verhör, sei es als Strafe, muß er sicher ziemlich unbequem gewesen sein.

The town of Linz is situated in the Rhine Valley a few miles south of Bonn. Among others, the museum of Burg Linz features a medieval dungeon and torture chamber.
It does house quite a number of medieval torture instruments, but to my impression the aim of the museum is more to create an atmosphere that makes you shiver than an accurate but sober description of medieval justice. Why do these items always need to look quite rustly?
However, one can find two examples of a Scavenger's Daughter, a device which must have been quite uncomfortable for interrogation or punishment in the long run.
---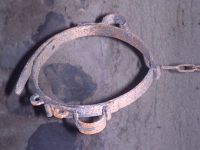 Es gibt auch eine Leibfessel mit integrierten Handgelenkseisen.
One can also find a waist belt with integrated wrist shackles.
---