Strafvollzugsmuseum Ludwigsburg
---
Es sollen hier einige wenige Stücke aus der großen Menge der Exponate besprochen werden, welche mir als Fesseln besonders interessant erschienen.
From the significant collection of exhibits only a few items will be presented here, those restraints which looked particular interesting to me.
Eigentlich wollte ich ein Fußeisen Spandauer Art näher betrachten, dies ist zur Zeit jedoch nicht ausgestellt. Die Vorrichtungen zum Kopf-kürzer-machen erregen mein deutliches Desinteresse, aber es gibt noch weitere Exponate.
Initially I wanted to pay a Spandauer leg iron once more a closer look, but this was not on display during my visit. Contraptions to chop off somebody's head, I don't exactly have a particular interest in these, but there are further exhibits.
Etwas genauer habe ich mir einen Hosenträger und ein paar Kapselschellen angeschaut. Der Hosenträger schien früher dem Anketten der Gefangenen an die Kerkerwand gedient zu haben. Im Gespräch mit dem Museumsleiter konnte ich noch ein paar interessante Einzelheiten erfahren.
I did pay a closer look to metal braces and a couple of cap lock cuffs. The metal braces apparently have been used to chain the prisoners to the wall of the gaol. Talking to the museum director I was happy to learn some interesting details.

Neugierig wie ein kleines Kind mußte ich ein paar Dinge auch mal begreifen. Aber nur, um die Exponate photogener zu haben... Die Ketten fädeln sich recht stramm durch die kreuzförmige Öffnung von Kapsel und Schellenzungen, und auch das Endstück sitzt ziemlich schlackerfrei. An Ketten ist typischerweise eine recht schwere Qualität verwendet worden.
Nosy like a little child I did have to grab some of these times. But only to have them in the right position to take a photo... The chains are quite tight to thread through the cross-shaped openings of cap and cuff, and once the end-piece is in position there is little slack. Talking chains, typically quite a heavy quality has been used here.
Der Querschnitt ist kreisförmig, damit lassen sie sich ums Gelenk drehen, haben dann aber halt nicht die komfortable Anschmiegsamkeit einer paßgenauen ovalen Öffnung.
The cuffs have a circular opening. Thus one can rotate them around ankle or wrist, but as a consequence they do not provide the comfy snugness of an oval opening of right size.
Die Teile scheinen ziemlich Standard gewesen zu sein und mindestens seit dem 18. Jahrhundert in Verwendung. Leider existieren detaillierte Aufzeichnungen zu Fesseln usw. erst seit dem 19. Jahrhundert, die Schellen wurden bevorzugt im Hause hergestellt, sodaß damit schonmal weniger Dokumente existieren und auch meist keine Herstellermarken, und in der Bauform läßt sich 18. Jhd. vom 20. Jhd. eigentlich nicht unterscheiden. Blieben metallurgische Untersuchungen oder ahnliche teure Späße zur Datierung der meisten Artefakte.
These items appear to have been pretty standard and are known to have been used at least from the 18th century onwards. One has to deplore that detailed notes on restraints and similar items only date back to the 19th century. In addition most of these shackles were manufactured in-house meaning even less documentation and usually no manufacturer's mark either. From the shape one is not really able to distinguish speciments from the 18th and 20th century. One might be left with metallurgical examinations or similar expensive investigations to put a date to most of these artefacts.

Eingesetzt wurden Kapselschellen in Württemberg bis zum Beginn der Weimarer Republik und dann wieder zu Zeiten des Dritten Reiches. Aus der Sammlung zur Schulung von Vollzugsbeamten gibt es eine Schautafel, die die Umstände eines letztlich gescheiterten Fluchtversuchs darlegt, der arme Kerl war vor und nach demselben in solche Eisen gelegt, wie die alten Photos zeigen. Geknackt hatte er aber nicht die Kapselschellen selbst, sondern ein schwache Kette der Handeisen, die Zellentür selbst und den Verschlußkeil der Kette des Fußeisens, die durch ein Loch in der Wand neben der Zellentüre nach außen geführt und dort fixiert war. Das war 1942 im Stadtgefängnis in Stuttgart.
Cup locks were used within the state of Württemberg until the end of the first world war and then again during the period of the Third Reich. The collection intended to train prison officers contains a poster giving the details of an attempted escape which in the end did fail. The photos show that the poor guy had been put into such irons. But he did not break the shackles themselves, but the weak handcuff chain, the cell door and then the locking wedge from the shackle's chain, which leading through a hole in the wall next to the door was attached at the outside wall. This did occur in the municipal prison of Stuttgart in 1942.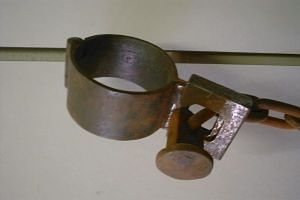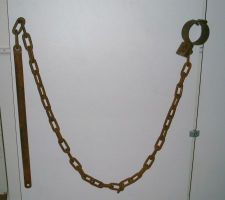 Es muß nach dem Krieg beträchtliche Vorräte an solch alten Eisen gegeben haben, diese wurden dann aber recht bald, spätestens jedoch in den siebziger Jahren, zum Schrottpreis abgegeben. Die wenigsten scheinen damals in Sammlerhände geraten zu sein, ungeachtet wie alt oder neu die Teile waren.
After WW II there was a significant number of such irons on stock, but pretty soon these were sold for scrap, the latest probably in the 70ies. Very few seem to have found ther way into collectors' hand, irrespective of their age.
Zumindest Ende 19./Anfang 20.Jhd., wo solche Dinge gut überliefert sind, sind Schellen im regulären Strafvollzug nicht eingesetzt worden, sondern nur als eine Option, wenn Hausstrafen an Häftlingen zu vollziehen waren. Zu diesen Zeiten mußte aber ein Sträfling schon zuvor vom Arzt begutachtet werden, und es gab zeitliche Obergrenzen für diese Art von Strafverschärfungen.
At least at the turn of the 19th/20th century, records being well kept then, the shackles were not regulary applied to inmates. There were an option if an inhouse punishment had to be dished out. Already in these times the person had to be shown to a doctor, and one was only allowed to use them for a limited time.
Soweit ich es einschätzen kann, sind diese Schellen deutlich bequemer als heutige Hand- und Fußschellen, lassen sich aber nicht in Sekundenbruchteilen anlegen. Sie haben mindestens die Auflagefläche eine Clejuso #15, aber selbst in einer massiveren Ausführung nicht deren Gewicht. Und mit Komfort für längeres bequemes Tragen wirbt sich im Sicherheitsbereich heute nicht so toll, damit finden sich-unabhängig von der tatsächlichen Tragedauer-daher nur für kürzeres Tragen konzipierte Modelle in den Katalogen der Hersteller.
To my esteem these shackles are significantly more comfortable than today's handcuffs and legirons. However, one cannot apply them in split second's time. They have the width of a Clejuso #15 but are significantly lighter. When advertising for the security business, the aspect of long term comfortable wear does not play that well, and so - irrespective of the actual time of wearing the contraptions - one may only find items intended for short tearm wear in today's catalogues.
Kapselschellen finden sich heute nur noch in Museen oder Liebhaber fertigen Replikate in Handarbeit an.
Nowadays cap or cup lock shackles can only be found in museums or collectors manufacture a replica.


---

Adresse:
Strafvollzugsmuseum
Schorndorfer Straße 38
71638 Ludwigsburg
07141/186265

Öffnungszeiten laut Prospekt:
Di-Fr 9-12 14-16 , So 13-17

| | |
| --- | --- |
| Es empfiehlt sich, vor einem Besuch die aktuellen Öffnungszeiten telephonisch zu erfragen. | It is recommended to ring the museum before an intended visit to check on the current opening times. |
---