Pranger und Block - Pillory and Stocks
---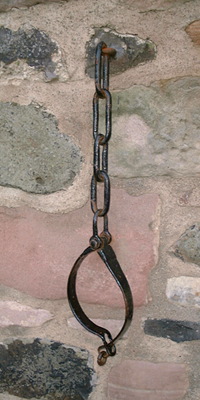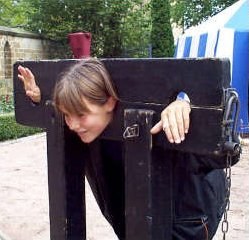 Pranger gibt es in der vielerlei Formen. Eiserne Halsketten hinderten einen im wesentlichen nur am Davonlaufen. Starre Holzbretter hingegen fixierten eine Person deutlich strammer, so war zum Beispiel ein Ausweichen von faulen Eiern eigentlich nicht mehr so richtig möglich.
Pillories come in many different forms and shapes. An iron neck ring merely stopped you from running away. In contrast a rigid wooden board would keep you ridigly fixed, which for instance made it a rather hard thing trying to avoid the trajectories of flying rotten eggs.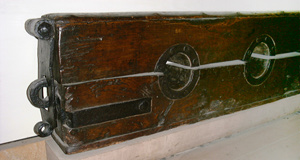 Der Block zum Einspannen der Fußgelenke wird bevorzugt am Boden montiert. Manchmal gab es auch noch zusätzliche Befestigungen für die Handgelenke.
The stocks accomodating the ankles are preferably mounted at ground level. Sometimes there have been additional fastening to secure the wrists as well.

---
Ich bin versucht, drei Stufen zu unterscheiden
jemanden zum Zurschaustellen anbinden
die Körperglieder in einer tragbaren Fessel fixieren
Immobilisierung in einem festen Pranger oder Block
I am tempted to discern three levels
tethering the person to the place of exhibition
restraining the limbs in a wearable restraint
immobilizing the person in a rigid stock or pillory
---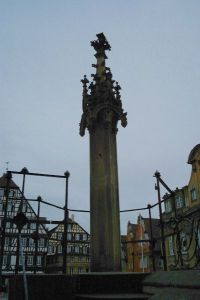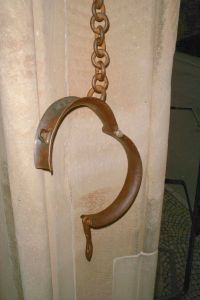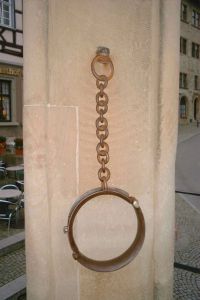 Schwäbisch Hall
In Schwäbisch Hall steht der Pranger, ein Modell Bühnenpranger, erhöht mit der besten Aussicht auf den Marktplatz. Um einem Kneifen wegen Lampenfiebers vorzubeugen, steht ein Halseisen zur Verfügung, das mit einer Kette an der steinernen Säule befestigt ist. Das Halseisen mag eine Replika aus jüngerer Zeit sein, der Autor selbst erinnert sich an eine andere Ausführung des Verschlusses früher, aber Kette und Befestigung erscheinen doch recht originalgetreu in der Ausführung.
From the pillory in Schwäbisch Hall, the make is stage pillory, one has the best view on the market square from a raised position. If you are prone to stage fever, a neck iron readily available may convince you not to sneak out. A chain connects it to the stone column. The iron ring itself might be a recent replica, because the author remembers the existence of a different locking mechanism some time ago, but chain and anchorage appear to be quite original in the way they are made.
---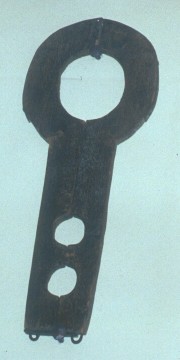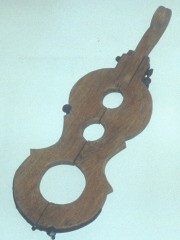 In eine Halsgeige gesteckt wie links eine zu sehen ist konnte eine arme Seele nun zwar seine Arme nicht mehr richtig bewegen, aber immer noch herumlaufen, um in der Stadt vorgeführt werden zu können.
Being put into a fiddle like the one shown on the left the poor soul was no longer capable of freely moving his arms but nevertheless he could still walk to be paraded through the town.
Am Pranger wurden auch Fesseln mit gegenständlichen Formen eingesetzt, um den Träger der Lächerlichkeit preiszugeben. Diese unspielbare Geige könnte durchaus ein minderbegabter Musiker getragen haben.
Restrains for figurative shapes have also been used at the pillory to ridicule the wearer. This unplayable violin could well have been worn by a musically challenged fiddle player.

---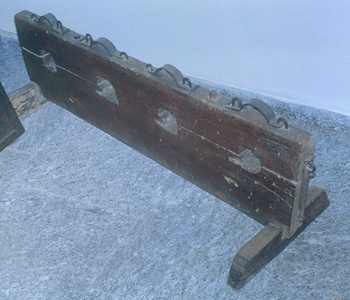 Block für Fuß- und Handgelenke.
Wenn man nun in den Block gesteckt worden ist, war man nun ziemlich unbeweglich und zudem auf Gedeih und Verderb den lieben Mitbürgern in der Menschenmenge ausgeliefert.
Stocks to secure both ankles and wrists.
Having been placed into such stocks, one was pretty well immobilised and for sure at the mercy of each and every individual of one's cherished and valued fellow citicens.
---