"Widerspenstige Gefangene wurden auf dem Zwangsbett festgebunden. Die Mahlzeiten setzte man außer Reichweite gerade neben das Bett."

Man erkennt die Fußgurte aus Leder und die Schlitze, um das Bett nach oben zuschnüren zu können.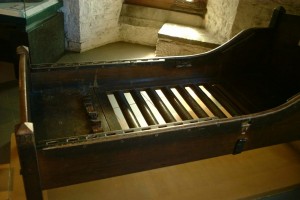 Gravensteen Gent
"Unruly prisoners were tied to the penal bed. Their meals were placed next to them. but just out of their reach."

One may notice the leather ankle straps and the slits to tie the bed shut towards the top.