Dies sind Gelenkhandschellen von Smith und Wesson. Erkennbar ist der firmenspezifische Schlitz zum Betätigen der Verriegelung.

Noch einengender die Speedcuffs von Hiatts, etwas beweglicher diese Gelenkhandschellen.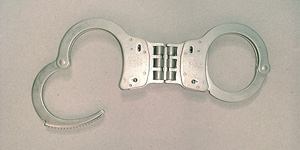 private collection
These are Smith and Wesson hinged handcuffs. One does clearly see the slot with the lever inside to actuate the double lock.

Allowing even less movements, the Speedcuffs from Hiatts, and some more movement possible with these hinged handcuffs.