Eine Gelenkhandschelle ohne durchschwingenden Bügel, welche vor dem Einsatz jeweils aufgeschlossen werden muß.

Weiter westlich entstanden etwa zur gleichen Zeit deutlich dünnere Gebilde.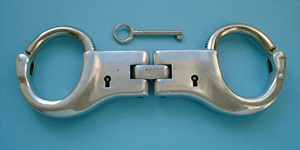 private Sammlung - private collection
A pair of hinged cuffs where the locking bow does not swing through. It has to be opened with the key before being applied.

Further west at about the same time one saw much skimpier items.