---


Handfesseln - Wrist Restraints
Die gezeigten Ausstellungsstücke sind nur eine kleine Auswahl von dem, was an Handgelenkfesseln existiert und soll eine Idee von der Verschiedenheit der möglichen Konstruktionen vermitteln.

Only a small selection out of the vast amount of existing wrist restraints is shown here. They have been chosen such as to give an idea about the difference of constructions possible.

Dies ist eine normale Handschelle, wie sie heute eigentlich häufig zu finden ist. Der Bügel kann in mehreren Positionen einrasten, ohne Handgelenk kann der Bügel zudem durchschwingen und damit braucht diese Art von Handschellen vor Gebrauch nicht aufgesperrt zu werden. Wenn man zudem die Nase am Schlüssel in ein Loch an der Schellenseite steckt, kann man den Bügel verriegeln, sodaß die Schelle nicht mehr enger gestellt werden kann. Entriegelt und aufgesperrt wird mit dem normalen Schlüssel.

This is an ordinary handcuff commonly found in today's time. The bow can lock in several different positions and in addition is able to swing through if there is no wrist in place. Thus this type of handcuffs does not need to be unlocked before use. Inserting the tip of the key into a hole at the side allows to double lock the cuff, this means a mechanism prevents them to get tighter. Both the double lock and the bow are unlocked in using the normal key.


Eine Variante, die als noch sicherer angesehen wird, die allerdings auch weniger bequem zu tragen ist. Bei Gelenkhandschellen können die Schellen nicht gegeneinander verdreht werden, und damit ist es schwierig bis unmöglich, ein Schlüsselloch zu erreichen, wenn diese auf der dem Körper zugewandten Seite liegen.

This variation is generally regarded as more secure, but is also less comfortable to wear. With such hinged handcuffs one cannot rotate the cuffs against each other which makes it difficult to immpossible to reach the the key holes if these face towards the body.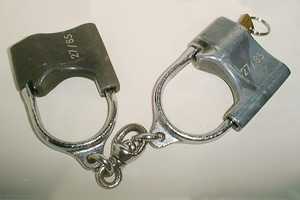 Chubb Escort / Stirling Old Gaol
Eine ganz andere Bauform hat die Chubb Escort Handschelle, die eigentlich für den Gefangenentransport konstruiert ist. Sie hat durchaus Ähnlichkeit mit einem Vorhängeschloß, muß aber mit Schlüssel geöffnet und geschlossen werden. Das spezielle Zylinderschloß ist ziemlich resistent gegen Dietriche. Durch die Rundung und die breitere Auflachefläche ist bequemer zu tragen.
Quite different in shape is the Chubb Escort, which has been primarily constructed for escorting prisoners. There surely are some similarities to a padlock but one does need a key both to open and to close it. The special cylinder lock is said to make lock-picking quite impossible. Being well rounded and wider it is more comfortable to wear.

---
Eine Handschelle der deutschen Firma Clejuso älterer Bauart. Der Bügel schwingt im Gegensatz zu noch älteren Modellen schon durch. Die Öffnung ist ovaler und scheint ein wenig eckiger, der Schlüssel ist eine andere Bauart, aber am wesentlichsten ist das Fehlen einer Verriegelung, und das Fehlen dieser Sicherung gegen das Engerstellen ist aus heutiger Sicht recht heikel.
An older make of handcuffs from the German company Clejuso. Compared to even older models the bow swings through. The opening is more oval in shape and appears to be somewhat more rectangular, the key is different to today's standard, but most significant is the lack of a double-locking, the absence of such a safeguard against getting the cuffs tighter accidentially is frowned upon today.

Diese Darby aus heutiger Herstellung, qualitativ nicht mehr so hochstehend, hat keinen durchschwingenden Bügel und keine Verriegelung, ist aber in der Größe verstellbar.
This Darby, having been manufactured recently meaning it is no longer of the quality of the classic handcuffs, does not feature swing through bow nor double lock, but it is adjustable in size.
Dies ist die klassische Darby, noch von der hochstehenden alten Qualität und in der ursprünglichen Bauform in einer festen Größe. Eine Besonderheit ist, daß sie zwar schnell zuschnappt, das Aufschrauben zum Öffnen aber seine Zeit braucht.
These are classical Darbies, still of the outstanding original quality and in the the original design of one fixed size. One particularity is that it can be applied and snapped shut pretty fast, but to open one has to use a screwing key which does take some time.
---
Ein starres und enges Handeisen. Es soll gerade diese enge Führung sein, die diese Fessel nach einer Weile unbequem werden lassen soll.

A narrow and stiff hand restraint. I was told that it is just this very proximity of the wrists which will make this restraint quite uncomfortable after a while.

Dieses Eisen schließt mit einem Schraubverschlu&szlig in der Mitte. Bei diesem starren Handeisen war auch beabsichtigt, daß der Gefesselte mit den Händen das Schloß nicht erreichen konnte.

This iron locks with a screwing mechanism in the middle of the bar. One of the intentions of this hand irons was the the restrained person was unable to reach the lock which his hands.

---
Neben der Fesselwirkung sind manche Fesseln auch noch richtig schwer. Das Gewicht selbst ist natürlich eine weitere Einschränkung der Beweglichkeit, aber zusätzlich soll der Träger sicherlich sich seines getragenen Schmucks permanent bewußt sein.
In addition to their restraining capability some manacles are designed to be really heavy. Weight in itself can be additional hindrance, but the additional point is certainly in keeping the wearer really aware of his jewellery.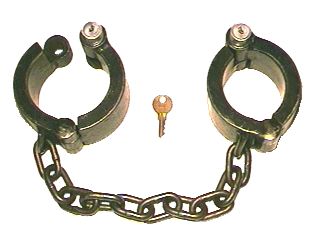 Iron Masters handcuffs / Yossie
Massive Handeisen, die in der Größe fix sind und wirklich auf Gewicht ausgelegt sind. Das Druckknopfschloß ist im verschlossenen Zustand schön in der Schelle selbst versenkt und steht nicht im Weg herum.
Massive Wrist Irons which are one size fits all and are really designed for their weight. The Push button lock nicely goes into the cuff body when locking and does not obstruct in sticking out.
Mechanisch gesehen ist dieses Clejuso-Modell eine gewöhnliche verstellbare Handschelle. Der Hersteller hat aber die Breite auf die Spitze getrieben, was sie einerseits recht komfortabel, andererseits auch auch ziemlich schwer macht. Verriegeln läßt sich die Schelle ohne Schlüssel, indem man einen Knopf auf der Seite eindrückt. Wenn man diese trägt, ist man sich dessen wirklich bewußt.
From the mechanical working these Clejuso cuffs are ordinary adjustable handcuffs, but the manufacturer really pushed for width, which makes them quite comfortable, and in consequence for weight. Double locking them does not require a key, one just depresses a button at the side. One is really aware of them when wearing these.

---
Das Kapselschloß hatte ich zum ersten Mal im Kriminalmuseum in Rothenburg ob der Tauber gesehen. Eine derart verschlossene Schelle benötigt keinen Schlüssel oder ein Vorhängeschloß, sondern erstmal ein Stück Kette zu Sicherung.
I have seen the Cup Lock the first time in the Medieval Crime Museum Rothenburg (Bavaria/Germany). A shackle locking this way does need neither padlock nor key but in first place a chain to secure it shut.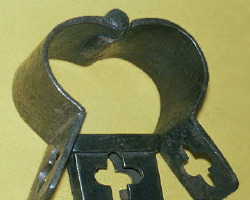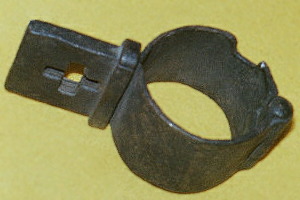 Kapselschelle - Cup Lock Manacle / Rothenburg Kriminalmuseum
Nach dem Schließen der Schelle schiebt man die Kapsel über die Enden der Schelle und fädelt dann eine Kette durch die kreuzförmigen Öffnungen. Die verwendete Kette hat typischerweise eine Verdickung am einen Ende. Das andere Ende der Kette ist zu sichern, sei es mit eine Schloß, sei es auf andere Weise. Dann kann man die Kette nicht aus dem Loch herausziehen, die Kapsel nicht abgenommen und die Schelle somit nicht geöffnet werden.
You close the shackle, push the cup shaped piece over the two flat parts, and then pass a chain through the aligned cross-shaped holes. The chain used may have a block at one end. Place a lock on the other end or secure it in some other reliable way. Then you cannot pull the chain out of the hole, the cup cannot be taken off the shackle which in turn cannot be opened.

---
In der Idee der Kapselschelle, aber lang nicht so mechanisch aufwendig, ist diese Schelle aus einem Truhenscharnier entstanden. Anstelle der Kapsel wird ganz simpel ein einzelnes Kettenglied verwendet. Die verwendete Kette hat auch keine Verdickung am Ende, sondern wird in der Abbildung durch Kettenflechten gesichert.
This home made device following the idea of the Cup Lock is much simpler in design and simply made from a hinge bent into shape and with a hole drillied into it. Replacing the cup is a single chain link. As the chain used does not have a thick part at the end this very end is secured via chain weaving.
Es geht sogar noch einfacher mit zwei verknoteten Kettenstücken und einem Vorhängeschloß welches in der Topologie des Boromäischen Knotens die Endglieder der beiden Ketten zusammenschließt.
There is still an even simpler way in emulating handcuffs using a knot on two lengths of chain and a padlock which locks them together in the topology of a Borromean knot.


Wenn man das Problem des Kettenverknotens erst mal mit dem richtigen Kettenmaterial gelöst hat, ist man recht flexibel und spart sich vor allem die Schlösser direkt an den Gelenken. Hier ein Beispiel mit einer Führungskette, wobei einzig das nach unten führende Kettenstück in einer passenden Weise zu sichern ist.
Once having solved the problem of knotting chains by using the rightly dimensioned chain material one is really flexible and one does away with locks in the vicinity of the wrists, for example. Show here is an example with a lead chain, and it is only the chain leading to the bottom of the photo which has to be secured in any suitable way.


---
Zum Schluß ein ganz besonderes Schmankerl, die McKenzie Handschuhe. Zusätzlich zum Ring ums Handgelenk kommen die Hände bis auf die Fingerspitzen in einer starren Blechschachtel zu liegen und werden damit vom Verschlußmechanismus entfernt gehalten. Das Problem war denn auch zuviel Sicherheit, da der Gefangene nichts mit eigenen Händen erledigen konnte und die Regeln verlangten, daß Fesseln auf dem Transport nicht abgenommen werden durften.
Last but not least a real delicatesse, the McKenzie Gloves. In addition to the usual ring around the wrist the hands are placed into metal mittens where only the finger tips stick out. Thus the hands are well kept away from the locking mechanism. Now the reason why the use of these mittens turned out to be problematic was this excess of security because the prisoner could not cater for himself and transport rules stated that restraints must not be taken off during transportation.


---