---


Fußgelenke - Ankles
---
Schellen - Shackles
Gewöhnliche Fußschelle - Ordinary Shackles
Diese Fußschellen sind im Prinzip nur vergrößerte Handschellen.
Der Tragekomfort ist mäßig, da die Schelle aus nicht sonderlich dickem Blech gefertigt ist. Unter Belastung schneidet insbesondere der bewegliche Bogen etwas ins Fleisch, außerdem steht das Gelenk etwas nach innen vor,wenn eine etwas weitere Einstellung gewählt ist.
Mit einem normalen Handschellenschloß ist die Sicherheit nicht allzuhoch. Der Schloßmechanismus dürfte durch das Schlüsselloch recht einfach zugänglich sein. Die Glieder der Verbindungskette sind nur zusammengebogen und nicht verschweißt.
These foot shackles are made to the same design as ordinary handcuffs. Comfort is somewhat limited, as they are made out of sheet material which is not too thick, and especially the swinging bow tends to dig in under pressure. Also the hinge protrudes somewhat inside when the cuff closed at a larger setting.
Security is similar to any other ordinary handcuffs using standard keys. It seems reasonably easy to pick the lock through the key hole. The chain links are only bent but not welded close.
Rivolier Fußeisen - Rivolier Leg Irons
Dieses Fußeisen besitzt einen simplen Schraubverschluß und ist in der Größe nicht verstellbar. Die Auflage auf der Haut nimmt zur Außenseite hin zu, und der Komfort ist auch unter Last annehmbar. Die plane Fläche am Verschlußmechanismus drückt ein wenig, erlaubt aber bei insgesamt ovaler Formgebung ein begrenztes Verdrehen um einen definierten Winkel am Fußgelenk.
Die Sicherheit mag einem erstmals geringer erscheinen, jedoch reichen normale Werkzeuge genausowenig zum Öffnen aus wie ein normaler Handschellenschlüssel. Ein entsprechender Schüssel müßte erstmals angefertigt werden, was für eine Werkstatt allerdings kein Problem sein sollte.
These leg irons are one size fits all and lock with a seemingly simple screw mechanism. Width inceases to the outer side and comfort is acceptable even under load. The planar surface at the lock pushes somewhat inside, but with an overall oval shape this feature allows a well-defined limited rotation on the ankle.
Security might seem inferiour to a real lock, but normal tools do not open them and neither does a normal handcuff key. For a reasonable workshop, however, it should be straightforward to manufacture an appropriate key.
Clejuso 8
Der Bügel dieses Fußeisen schwingt nicht durch wie bei normalen Handschellen. Der Schlüssel hat eine gewisse Ähnlichkeit mit dem Handschellenschlüssel, was zu einer limitierten wechelseitigen Verwendbarkeit führt. Die Verriegelung wird durch einen Druckknopf am Schloßgehäuse ausgelöst. Die Ausführung ist dick und schwer, was durchaus zu mehr Tragekomfort führt, und das Schloß steht etwas ab..
Der Komfort ist ok, es drückt durchaus, wenn man die Schelle verdreht und man tut besser daran, es in die Ausgangslage zurückzudrehen. Die Verbindungskette is kürzer als bei vergleichbaren Modellen.
Der Verschlußmechanismus ist gut im Gehäuse untergebracht und ist nicht ganz so einfach zu picken. Insbesondere der Verriegelungsmechanismus sollte von seiner wahrscheinlichen Gestaltung her solchen Versuchen einen gewissen Widerstand entgegensetzen.
This leg iron is not of swing-through type. Keys of legcuffs and handcuffs are similar but not idential which gives limited interchangeability. The double lock can be actuated by pressing the button at the far corner of the iron. It is thick and heavy, but this does provide some wearing comfort. The lock case is chunky.
Comfort of the oval design is reasonable, although it tends to press somewhat when forcibly rotated and one likes to bring it back into standard position. The chain is shorter than on other shackles.
The lock mechanism seems to be well hidden and from the inner design especially of the double lock feature it should provide some resistance to simple picking attempts.
---
Wegen ihrer Natur als Ausstellungsstücke in Museen können die folgenden Objekte nur visuell beurteilt werden.
Due to their use as objects on show in museums the following objects can only be judged visually.
Schweres Fußeisen - Heavy Leg Iron
Ein wirklich schweres Fußeisen mit dicker Verbindungskette. Wenn man von dem Gewicht absieht, dürfte der Tragekomfort ganz passabel sein. Der Verschlußmechanismus ist nicht erkennbar.
This are really heavy shackles with a rather thick connecting chain. Apart from their weight they would be reasonable comfortable to wear. The locking mechanism cannot be identified.

Mittelschweres Fußeisen - Medium Weight Shackles
Die Schelle ist anscheinend kreisförmig, was beim Verdrehen am Fußgelenk nicht zu Komforteinbuße führt. Sie ist recht breit. Da kein Schlüsselloch erkennbar ist, muß man wegen des Schloßmechanismus weitgehend raten.
The shackles seem to be of circular design so they do not press the ankle when rotated. It is reasonably wide. As no keyhole can be seen (it is probably hidden underneath) one has to guess about the locking mechanism.

Fußeisen - Leg Iron
Dieses Design hat einen runden Metallquerschnitt. Die riesigen Kettenglieder dürften beim Bewegen durchaus etwas hinderlich sein. Die Schellen sind durch Nieten verschloßen.
This design uses a circular metal cross section. The few und giant chain links probably make walking quite cumbersome. These irons are riveted closed.

---
Kettenschlaufen - Chain Loops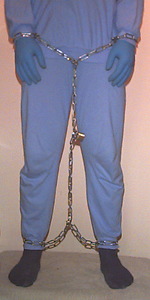 Ketten-Fußschlingen
Komfort ist ordentlich bis erstaunlich gut, unter Zug spührt man manchmal vermehrt einzelne Kettenglieder. Im Gegensatz zu den starren Schellen oben paßt sich die Kette den jeweiligen Gegebenheiten in der Form an. Die Sicherheit kann hoch sein. Sie ist abhängig vom Verschluß, welcher aber weit von der Schlaufe entfernt plaziert werden kann.
Chain Ankle Loops
The comfort can be surprisingly good. Under tension one tends to feel individaul chain links. In contrast to the rigid shackles shown above the chain adapts to the shape required. Security can be pretty high and depends on the external locking device used. This may even be placed at quite some distance from the loop.
Kettenschlingen-Kombination - Chain Loop Combination
Gesicherte Hand- und Fußgelenke, im rechten Bild in einer Kombination gesichert durch ein Vorhängeschloß. Die Verbindung mit den Handgelenken hat den nicht unerwünschten Nebeneffekt, daß die Fußkette angehoben ist und nicht auf dem Boden schleift.
Secured wrists and ankles in the right photo, the combination being secured with a padlock. The attachment to the wrists as the positive side effect of that the chain connecting the ankles is raised off the floor.


---