---


Verriegelungen - Double Lock Mechanisms
---
Schellen, die in mehreren Positionen einrasten können, weisen üblicherweise einen Mechanismus auf, der sie in der eingestellten Größe verriegeln kann, damit sie nicht unbeabsichtigt enger werden. Diese Verriegelung sollte aus Sicherheitsgründen nur mit einem Schlüssel geöffnet werden können.
Cuffs and shackles which are adjustable in size usually have a double lock mechanism which locks them to the actual size and prevent them from getting tighter, something which could accidentially happen. For safety reasons one should only be able to release this double lock in using a key.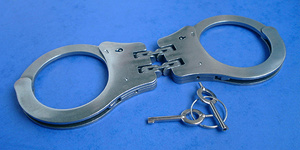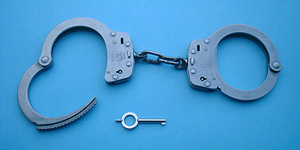 Üblicherweise findet sich an der Schmalseite ein Loch mit einem versenkten Druckknopf, den man mit einer Spitze am Handschellenschlüssel eindrückt. Bei manchen Modellen findet sich manchmal ein Schlitz auf Vorder- und Rückseite, in dem man mit der Spitze entlangfahren muß.
Usually one has to actuate a knob located in a hole at the side of the cuff. One usually uses a pin on the handcuff key to depress it. Some models figure a slit on the front and back side and one has to slide the pin in it to move a lever.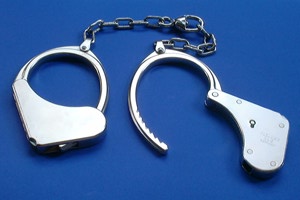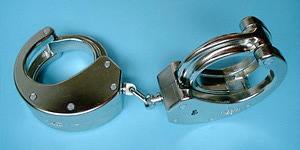 Die meisten Schellen von Clejuso haben eine Druckknopf, den man mit dem Finger eindrücken kann. Bei der schweren Handschelle sieht man ihn auf der Unterseite links, bei den Fußeisen sitzt er an der Ecke.
On most of the Clejuso cuffs one can actuate the double lock with the finger. On the heavy cuff on the left one can see the knob at the bottom while the shackle has the button prominently located at the corner.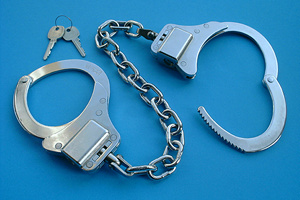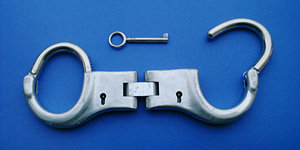 Bei manchem Modellen muß man den Schlüssel im eigentlichen Sclüsselloch drehen, um die Verriegelung zu aktivieren. Hier kann es zum versehentlichen Öffnen kommen. Links ist eine Gelenkhandschelle aus der DDR, bei der die Bügel nicht durchschwingen, rechts ist das Hochsicherheitsmodell der Fußschelle aus dem Hause Clejuso.
With some models one has to turn the key in the main keyhole to activate the double locking mechanism. This bears the danger of accidentially unlocking the cuff. This is the case for an old GDR hinged handcuff where the bows do not swing through, left, as well as for the high security leg iron from Clejuso, right.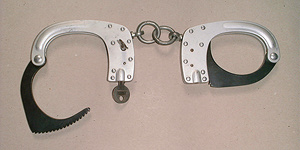 Diese Rivolier-Handschelle aus Frankreich hat ein Zylinderschloß mit einem separaten Schlüssel, den man auch zur Aktivierung der Verriegelung braucht.
These Rivolier handcuffs from France feature a cylinder lock which operates with a separate key. The key is required for both activating and releasing the double lock.
---