---


Kapselschloß - Cup Lock
---
Das Kapselschloß hatte ich zum ersten Mal im Kriminalmuseum in Rothenburg ob der Tauber gesehen. Eine derart verschlossene Schelle benötigt keinen Schlüssel oder ein Vorhängeschloß, sondern erstmal ein Stück Kette zu Sicherung.
I have seen the Cup Lock the first time in the Medieval Crime Museum Rothenburg (Bavaria/Germany). A shackle locking this way does need neither padlock nor key but in first place a chain to secure it shut.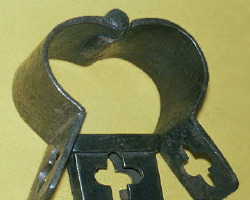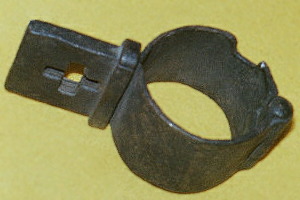 Nach dem Schließen der Schelle schiebt man die Kapsel über die Enden der Schelle und fädelt dann eine Kette durch die kreuzförmigen Öffnungen. Die verwendete Kette hat typischerweise eine Verdickung am einen Ende. Das andere Ende der Kette ist zu sichern, sei es mit eine Schloß, sei es auf andere Weise.
You close the shackle, push the cup shaped piece over the two flat parts, and then pass a chain through the aligned cross-shaped holes. The chain used may have a block at one end. Place a lock on the other end or secure it in some other reliable way.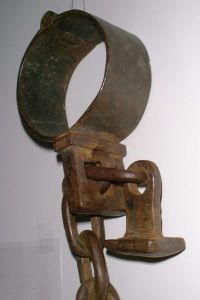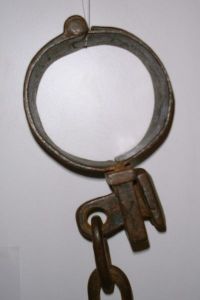 Dann kann man die Kette nicht aus dem Loch herausziehen, die Kapsel somit nicht abgenommen und die Schelle nicht geöffnet werden.
Then you cannot pull the chain out of the hole, the cup cannot be taken off the shackle which in turn cannot be opened.

---
Fabrikneue Schellen mit Kapselschloß werden heute eigentlich nicht mehr hergestellt oder verkauft. Jedoch bin ich von Blacky angeschrieben worden, der solche Schellen in Heimarbeit angefertigt hat und mir die folgenden Photos netterweise zugeschickt hat.
Nowadays one does not come across newly manufactured cup lock cuffs intended for sale. But I have been contacted by Blacky who actully has built such cuffs in his own private workshop and has been so kind to send me the photos you may see below.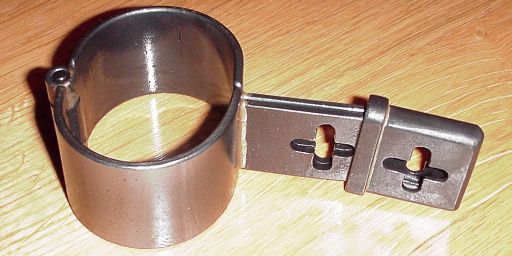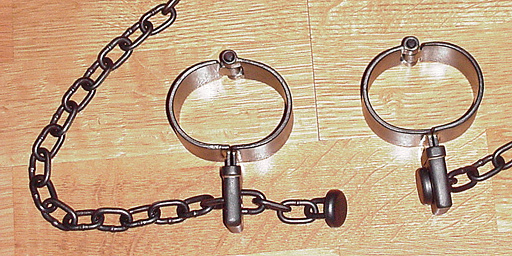 Die Schellen erachte ich als wohlgelungen, ein paar Anmerkungen und kleinere Verbesserungsvorschläge habe ich auf einer eher technisch orientierten Seite zusammengestellt.
I think this cuffs are well done. If you are interested in a few remarks and hints on how to still improve, I have written about it on a more techically oriented page.
---
Kleine Übersicht zu verschiedenen Ausführungen:
Brief overview of different models: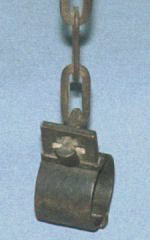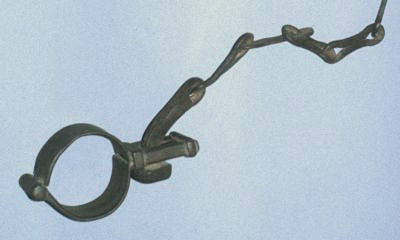 Diese in Rothenburg gezeigten Modelle haben runde Öffnungen und eckige Kapseln. Bemerkenswert ist beim rechten Exemplar die Kette in älterer Bauform und der lange Stiel am Kettenendstück.
These itmes shown in Rothenburg have round cuff openings and rectangular cup locks. One may note the chain link old style on the right specimen and the long shaft on the end chain link.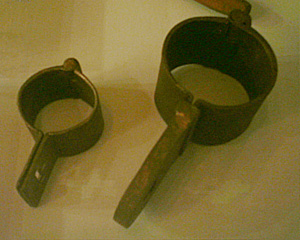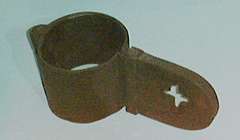 Diese in der Kaiserburg in Nürnberg ausgestellten Kapselschellen haben eine abgerundete Kapsel.
These cup lock shackles on display in the Emperor's Castle in Nuremberg have a rounded cup.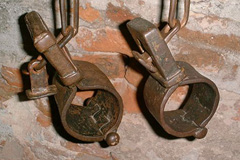 Und zwei Exemplare aus den Lochgefängnissen in Nürnberg. Die rechteckigen Kapseln sind leicht unterschiedlicher Bauform. Interessanter ist jedoch, daß die linke Schelle oval, die rechte Schelle hingegen rund ist. Wenn eine ovale Schelle relativ eng in der Paßform ist, kann sie nicht um das Gelenk rotieren, und lose schlackernde Fesseln können ziemlich lästig sein.
And two specimen from the dungeons underneath the town hall in Nurenberg. The rectangular cups are slightly different in their make. But more interesting is the fact of the left shackle being elliptical in shape and the right shackle being round. Oval shackles if fitting snugly can not be rotated around the limb, which may be an advantage because loosely dangling restraint can turn turn to be quite a nuisance.
---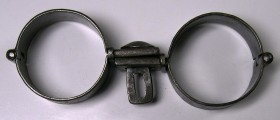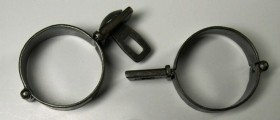 Stan Willis Collection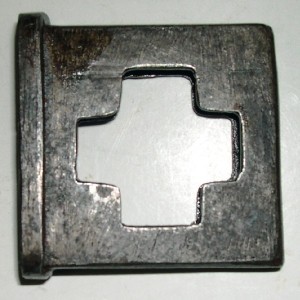 Da erreichten mich doch Photos von Kapselschellen, welche nun nicht mit einem Kettenstück, sondern mit einem T-förmigen Bolzen verschlossen werden und dabei ein Handschellenpaar ergeben. Durchaus interessant, den alten Entwurf der Kapselschelle hierfür zu adaptieren, zumal die Form der plusförmigen Öffnung eher nicht für die Verwendung von Ketten optimiert ist. Unklar ist mir aber, mit welcher Art von Sicherung das längliche Loch im T-Stück gesichert worden ist.
And then I did receive some photos of cap lock shackles, not to be locked in using a length of chain but using a t-shape piece of metal thus resulting in some kind of handcuffs pair. It is interesting to see how the proven design of cap lock shackles had been adapted for this purpose, in particular as the plus-shaped opening no longe is optimised for the use of chains. Unclear to me, however, is the way in how the long hole in the T-piece had been secured.
---