---


Kopf - Head
---
abschließbare Kopftracht - lockable head gear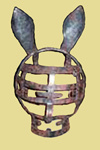 Schandmasken, als Käfige für den Kopf oft mit 'lustigen' Attributen geschmückt wie Glöckchen, langen Nasen, Rüssel, um auf Verfehlungen hinzuweisen und den Träger der Lächerlichkeit preiszugeben, in diesem Fall lange Ohren für ungebührliches Lauschen. Diese Schandmasken sind aus den deutschsprachigen Raum bekannt.
Shaming masks, being cages to put the head into, frequently adorned with little bells, long noses, 'funny' attributes in general to figuratively point out the misdemeanours and to ridicule the person wearing it. In this case it features long ears for unorderly eavesdropping. This type of masks is known from german-speaking countries.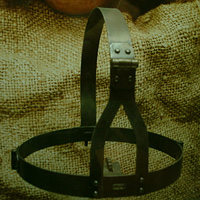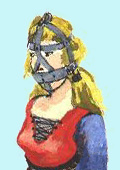 Im Gegensatz hierzu eine Art Zaumzeug aus dem angelsächsischen Raum, mit Zungenstück, um den Redefluß einzudämmen. Manchmal auch noch mit Klingen oder Dornen versehen, was dann deutlich in Richtung physischer Folter und Quälen geht.
Scold's Bridle seen in Inveraray. a metal cage for the head with a built-in gag. Sometimes the gag was adorned with blades or thorns which was on top of stopping the flow of speech to cause pain and torture.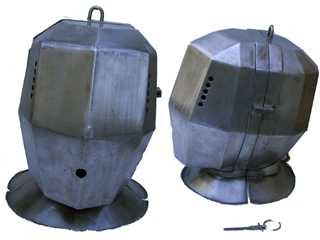 Absperrbarer Helm als Sichteinschränkung, Anwendungen eher privaterer Art.
Lockable helmet as a blindfold, use probably of a more private nature.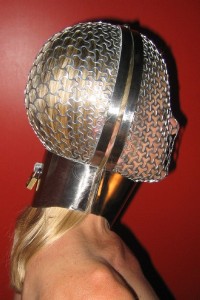 Eine Kopfmaske aus durchbrochenem Metallblech ist hier mit einem Kragen kombiniert.
The head mask made from perforated sheet metal as shown on the left has an incorporated metal collar.

---
nicht verschließbar - non-lockable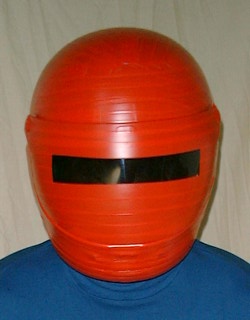 Helme und vergleichbares. Von offenen, leichten und luftigen Fahrradhelmen über Baustellenhelmen bis zu den recht geschlossenen Motorradhelmen reicht hier die Spanne.
Helmets and similar ranging from the light and airy bicycle helmets and the construction area hard hats to the integral helmets for motorcycle use.
Hier geht es darum, den Kopf möglichst rundum zu schützen, und gleichzeitig Luftzufuhr sowie Sichtfähigkeit zu gewährleisten.
Here it is about providing protection to the head, alround if possible while maintaining an orderly air supply and the ability to view properly.
Helme von Ritterrüstungen konnten durchaus sich auf den Schultern abstützen anstelle auf dem Kopf selbst getragen zu werden. Dies dürfte im Besonderen für Turnierhelme gegolten haben.
Helmets from knights armour could well be supported by the shoulders and not by the head itself, I presume that for tournament helmets this was particularly the case.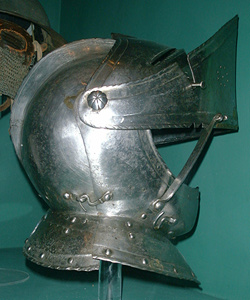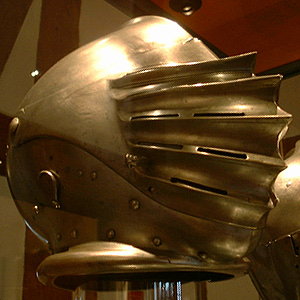 Strapazieren wir die Definition einer Fessel, dann könnte diese auch für Helme gelten, da solche nicht einfach abgenommen werden können sollten, da sie in solch einem Fall ihre Schutzaufgabe nicht mehr erfüllten. Natürlich soll man den Helm recht einfach ablegen können, wenn man ihn nicht mehr braucht, aber es dürfte wichtiger sein, ein Ablegen, Abstreifen oder Abnehmen dann zu verhindern, wenn der Schutz durch den Helm benötigt wird.
In stretching the introductory definition of restraints, the purpose of a helmet usually is not to come off someone's head easily, otherwise it would forfeit its protection purpose. For sure it should be reasonably easy to take a helmet off as its function is no longer required, but more importantly difficult to remove by whoever or whatever could possibly do so when helmet protection is required.


---