---


Sicherheit vor Ablegen - Removal Security
Wenn man Fesseln ohne vorherige Bewilligung ablegen möchte, kann man es mit roher Gewalt versuchen. Manche Fessel wird recht bald nachgeben, manche wird sich aber erst mit sehr viel Kraftaufwand öffnen lassen.
Man kann aber auch anders verfahren und Werkzeuge verwenden, die manipulieren, ohne zu beschädigen, und mögliche konstruktive Schwachpunkte ausnutzen. Um diesen Ansatz geht es im folgenden.
Im ersten Teil geht es um Schloßkonstruktionen und ihre vom Design her unterschiedliche Widerstandskraft. Man hat den Schlüssel nicht, vielleicht aber die Hilfe weiterer Personen.
Der zweite Teil behandelt Fesseln, welche die gefesselte Person auch daran zu hindern versuchen, das Schloß oder Schlüsselloch zu erreichen. Es kann also gut sein, daß man Probleme hat, obwohl man den Schlüssel in Händen hält.
Im dritten Teil werden Fesseln vorgestellt, bei welchen die Fessel selbst ohne Schloß ist und die Sicherung in einiger Entfernung erfolgen kann. Die Fessel selbst ist damit natürlich absolut immun gegen Dietriche oder ähnliche Dinge.
To remove restraints without being duly authorized to do so, one can go for the brute force approach, and some restraints will yield after little, some only after the application of considerable force.
But is it another approach, using tools to tamper but not to damage or exploiting possible weaknesses of the design which should be looked into in the following.
In the first part we will look at different lock designs which may have various degrees of design strength. You may have the help of other persons but no key.
The second part is showing some attempts to keep the restrained person from actually gaining access to the lock on the restraint, so even in possession of a key it may not always be easy to unlock oneself.
In the third part we will look at restraints where the locking can take place at quite a distance from the actual restraint, which itself offers no weakness at all in terms of shimming or picking.
---
verschiedene Schlösser - different lock types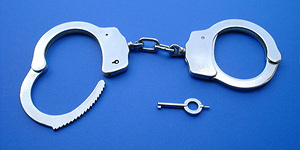 Eine normale Handschelle hat eigentlich zwei Schwachpunkte. Solange sie nicht verriegelt ist, kann man versuchen, von der Öffnung oder von der Seite her mit einem Metallstreifen die Sperrklinke heraunterzudrücken. Enge Toleranzen in der Fertigung können dies schwer bis unmöglich machen. Allgemein ist das Schlüsselloch hinreichend groß sodaß man mit einer Nadel oder ähnlichem von außen den Verschlußmechanismus erreichen kann. Gegen beides kann konstruktiv vorgegangen werden.
The pretty standard handcuff as shown here does have two weak points. As long as only simple locked one may try to shim it, pressing down the ratchet, from the side or from the opening using a thin sheet of metal. Ticht tolerances during manufacturing may make shimming difficult to impossible. With the keyhole of sufficient size such a cuff is pretty easy to pick with a needle or similar. To be fair some designs do make it somewhat more tricky.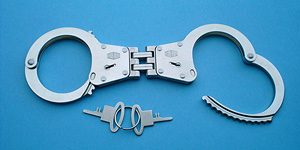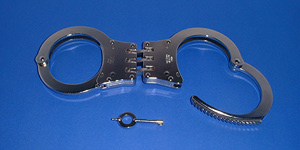 Mit der Nut im Bügel und einer Vertiefung am Anfang der Backe gehen diese beiden Schellen gegem die Attacke von dünnen Metallstreifen vor. Zudem haben sie zwei oder drei Sperrklinken nebeneinander, die man mit einer Nadel oder Änlichem gleichzeitig wegdrücken müßte.
With the grooved bow and the depression at the beginning of the jaws these two cuffs fight shimming attempts. In addition one would have to lever two or three ratchets at the same time with a needle or one's favourite tool in order to disengage the bow.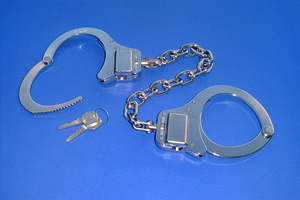 Für höhere Sicherheitsanforderungen gibt es Schellen mit anspruchsvolleren Schlössern, welche es Dietrichen erheblich schwiereiger machen. Rechts ist eine Fußschelle mit eingebautem Zylinderschloß zu sehen, und weil eine solche Schelle eigentlich immer verriegelt sein soll (und sauber gefertigt ist), findet sich nicht die oben gezeigte Vorkehrung gegen dünne Metallstreifen. Bei der unten gezeigten Handschelle ist die Verriegelung separat mit einem Zylinderschlß versehen. Beidesmal ist die Verriegelung immer nur mit Schlüssel möglich.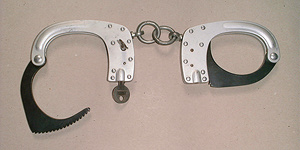 Having higher security requirements one has the choice to go for restraints with more challenging lock. The shackle to the right is using a high security cylinder lock, as as one should always double lock such restraint (and it is well manufactured) one does not use the above-mentioned anti-shimming technique. The handcuff above uses a separate cylinder lock for the double lock. For both specimen one needs a key for any action on the double lock.





Handschelle mit normaler Sicherheit, wenn verriegelt. Läßt sich aber ohne Schlüssel öffnen, wenn einfach nur zugeschnappt und nicht verriegelt. Wenn man den Bügel kurz vor die nächste Raststellung weiterbewegt, klemmt ein Druck auf den Verriegelungsschieber die Rastung in geöffneter Stellung fest.

Handcuff with usual level of security when double locked. May be tricked open without the use of any tool if only single locked. One pushes the bow just short of the next locking position then presses on the double lock button which jams the ratchet in the open position.




Billiges Zeug aus China mit riesigem Schluesselloch. Wird auch teilweise mit externem Hebel als Spielzeug verkauft. Dürfte recht einfach mit einer Nadel oder anderen Dingen zu öffnen sein. Zudem ist die Verriegelung in beiden Richtungen ohne Schlüssel zu bet&aumltigen, soda&szlig diese extra Sicherheitsstufe nicht wirksam ist.

Cheap stuff from China with an enormously big keyhole which sometimes does include an external lever and then is sold as children's toy. Even without such lever it should be very east to pick this thing. In addition the double lock is finger actuated to this extra level of security is nonexistent.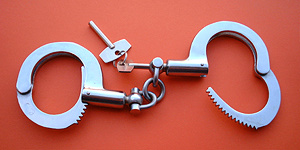 Ebenso aus China. Auf das versteckte Schlüsselloch wird weiter unten eingegangen. Die Verwendung eines Zahnrads statt einer Sperrklinke macht dieses Design resistent gegen shim-Versuche. Eine mehr oder weniger zugängliche Sperrklinke, die sich von außen niederdrücken ließe, fehlt beziehungsweise der Rastmechanismus für das Zahnrad befindet sich geschützt im Gehäse selbst dann, wenn das Zahnrad selbst offenliegt.
Der Schlüssel selbst hat mit einer innenliegenden Dreiecksaussparung eine ungewönliche Form , aber gegen eine Art Schraubenzieher im Schlüsselloch ist keine weitere Sicherung wie bei einem Zylinderschlo&szlig vorhanden.
These Cuffs are also from China. The hidden keyhole will be discussed later. The use of a cog wheel instead of a ratchet makes this design immune against shimming attempts. A ratchet, more ore less accessible from the outside, is missing or more precisely is well hidden in the housing behind the cog wheel even if the latter is freely exposed.
The key itself has an unusual inward triangular opening, but there ist no additional safeguard against a screwdriver or similar in the keyhole as it would be with a cylinder lock.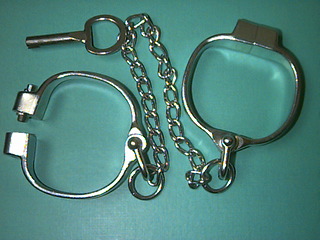 Dieses Rivolier Fußeisen hat einen simplen Schraubverschluß, aber immerhin kann man mit normalen Schaubenziehern die Schraube weder festziehen noch lösen. Aus einem Metallrohr passenden Durchmessers und einer Metallsäge läßt sich jedoch einfach ein Ersatzschlüssel herstellen.
Ein Schraubverschluß ohne Federspannung hat aber den intrinsischen Nachteil, daß er sich mit der Zeit losarbeiten kann, insbesondere wenn an der Fessel gekratzt, gebogen oder geschüttelt wird.
Screw Locking in use on a Rivolier leg iron. I does neither open nor close using ordinary screwdrivers, but it is easy to build a key from a metal tube of right diameter and a metal saw.
Without a spring in the locking mechanism there is a possibility that such mechanism is slipping and getting loose over time, especially when the manacle is scratched, shacken or bent.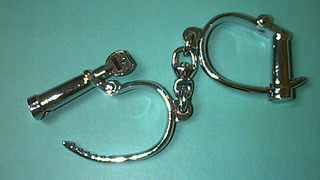 Bei den alten Darbies ist der Mechanismus eine Schraube in einem Loch, an der man ziehen muß, um die Schelle zu öffnen. Der Schlüssel weist ein Innengewinde auf. Es heißt, das sie mit einer zum Haken gebogenen Bueroklammer zu öffnen seien. Hier ist es eigentlich die etwas ungewöhnliche Art der Schlüsselbetätigung, die bei Nichtkenntnis in heutiger Zeit etwas Schutz verschafft.
With the old Darbies one finds a screw hidden in a hole and one has to pull on it to open the cuff. The key is threaded internally. It is said that one may open them with a paper clip bent in form of a hook. Nowadays it is the somewhat unusual action one has to take in opening these which give some protection in case you do not know about it.


---
Schlüsselloch nicht erreichbar - unable to reach keyhole
Nun zu Designs, um bewegliche Finger nicht ans Schloß heranzulassen.
Now to the design attempts of keeping prying fingers away from the lock.
Um Schwächen in einigen Schloßarten zu kompensieren, verhindern manche Fesseln den Zugang zum Schloß für den Träger. Normalerweise hält man die Hände auf Abstand von Schlüsselloch, aber dies allein ist eigentlich nicht ausreichend, denn man kann mit einfachen Werkzeugen die Reichweite der Hände vergrößern oder mit Zehen oder Zähnen oder einem Schraubstock den Schlüssel halten.
To overcome weaknesses intrinsic to certain lock designs, the shape of the restraint is sometimes designed not to have the lock accessible for the wearer. Usually one keeps the hands sufficiently distant from the keyhole, but this in itself is not enough as one can easily use simple tools to extent the reach of the hands or use toes or teeth or a vise to hold the key.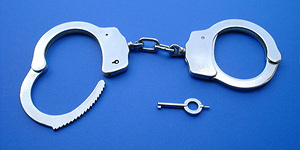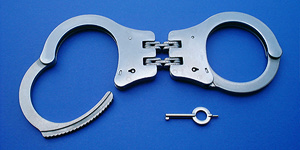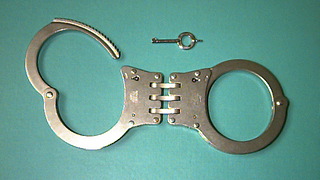 Bei Handschellen mit Knickgelenk ist die Ausrichtung des Schlüssellochs entscheidend. Wenn dies auf der Körperseite und nicht auf der Seite der Hände liegt, ist es schwer, um die Schelle herumzugreifen und den Schlüssel einzustecken, insbesondere wenn die Hände auf dem Rücken gefesselt sind.
Going for hinged handcuffs the positioning of the keyhole is of paramount importance. If they face towards the body it is difficult to reach around the cuff with the hand to put the key into the keyhole. This is a particular problem if the hands are secured at the rear.



Beim Lilly Fesseleisen werden die Hände durch die Stange auseinandergespreizt und damit auf Abstand vom mittigen Schraubverschluß gehalten.
The Lilly Iron: the hands are spread apart by the ridig restraint and thus cannot reach locking mechanism based on a screw.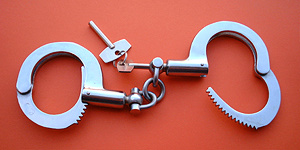 Der Haupttrick ist hier, daß das Schlüsselloch normalerweise verdeckt ist und nur dann freigegeben wird, wenn der Schäkel senkrecht zum Gehäuse steht.
The main trick here is that the keyhole is usually covered and only is accessible when the fastening shackle is at right angle to the cuff body.


---
Fesseln ohne Schloß - restraints without lock
Und dann gibt es noch die Fesseln, wo man ein eigenes sicheres Schloß bereitstellen muß welches aber durchaus ein ganzes Stück weit von den gesicherten Körperpartien entfernt sein darf. Keine Chance für Dietriche an der Fessel selbst, die allerdings mechanischen Angriffen widerstehen sollte.
And then there are implementations where you need to supply your own secure lock, but it can be at some distance from the restrained limbs. Nothing to shim or pick on the restraint itself, which should be sturdy enough to prevent mechanical attack.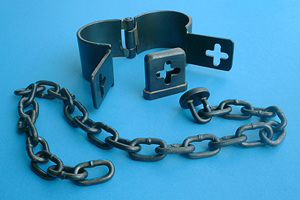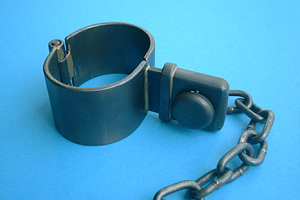 Dies ist der Fall bei den Kapselschellen, welche durch eine Kette gegen das Öffnen zu sichern sind.
This holds in case of the Cup Lock Shackles which need to be secured shut with a chain.
Bei diesem Kettengeflechte ist die Sicherheit des Vorhängeschlosses ausschlaggebend.

With this weaved chains all is depending on the security of the padlock.

Und hier kommt es auf die sichere Befestigung des Kettenendes an.

And here it is the open chain end which has to be securely attached.

Hier reicht es eigentlich aus, wenn die Befestigungspunkte der beiden Kettenenden außer Reichweite sind. Die Befestigungen sind weit auseinander und die jeweiligen Kettenlängen sind kurz genug, damit die jeweils andere Seite nicht erreichbar ist.

Here it is sufficient to have the anchor points for both chain ends out of reach. The points of attachment are usually wide apart, and the length of the two chain ends is sufficiently short as to keep the other respective side out of reach.
---
Eine unter Aufsicht kurzzeitig angelegte Fessel braucht weniger widerstandsfähig gegen Manipulationen zu sein als eine, welche über längere Zeit unbeaufsichtigt und selbst mit Zugang zu einfachem Werkzeug zuverlässig verschlossen bleiben muß.
A restraint under supervision for short-term use does not need to be as tamper-proof as a device which would need to be secure unsupervised, during long term wear and even access to simple tools.

In vergangenen Zeiten wurden Fesseln manchmal mit Nieten verschlossen. Heutzutage wäre diese definitive Sicherheit durch Zuschweißen erzielbar. Die Alternative wäre die Verwendung von Fesseln, die praktisch jegliche Bewegung verhindern.
In history shackles have sometimes be riveted shut. With modern technology available such ultimate locking security might be welding restraints shut. The alternative is to use very restraining devices, leaving barely any possibility of movement to the wearer.
---