---


Verschlußmechanismus - Locking Mechanism
---
Schraubschloß - Screw Lock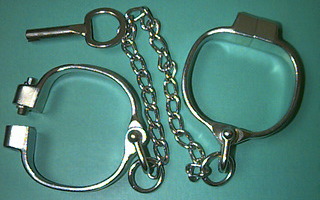 Verschluß durch eine Schraube, die festgezogen wird. Normale Werkzeuge reichen zum Aufkriegen nicht aus. Es braucht Werkzeug, um den speziellen Schlüssel anzufertigen, dieser ist aber einfach herzustellen.
Locking with a screw which one tightens. The usual tools are not sufficient to get it open. One has to manufacture a special key, although this is an easy thing to do.

Schelle mit Schnappverschlu&szlig. Der Bolzen kann an einem Gewindestift zurückgezogen werden. Großes Schlüsselloch, der Schlüssel muß jedoch ein Innengewinde aufweisen. Vielleicht mit Bueroklammer zu öffnen, die sich im Bolzengewinde verhaken kann?
Cuff with locking bolt. This bolt, partially threaded, might be pulled back using a key with a threaded inner hole. Maybe even to open with a paper clip bent to hook into the thread.



Schlüssel - Key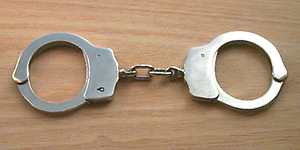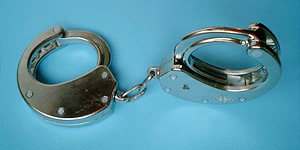 | | |
| --- | --- |
| Eine normale Handschelle mit Handschellenschlüssel. Rechts kann die Verriegelung mit dem Finger ausgelöst werden. | A handcuff with ordinary handcuff key. The speciment to the right can be double-locked with using the finger only. |
Verriegelung - Double Lock
Schellen, die in mehreren Positionen einrasten können, weisen üblicherweise einen Mechanismus auf, der sie in der eingestellten Größe verriegeln kann, damit sie nicht unbeabsichtigt enger werden. Diese Verriegelung sollte aus Sicherheitsgründen nur mit einem Schlüssel geöffnet werden können.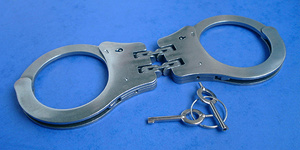 Üblicherweise findet sich an der Schmalseite ein Loch mit einem versenkten Druckknopf, den man mit einer Spitze am Handschellenschlüssel eindrückt.
Cuffs and shackles which are adjustable in size usually have a double lock mechanism which locks them to the actual size and prevent them from getting tighter, something which could accidentially happen. For safety reasons one should only be able to release this double lock in using a key. Usually one has to actuate a knob located in a hole at the side of the cuff. One usually uses a pin on the handcuff key to depress it.
---
Die folgenden zwei Methoden brauchen kein Schloß, welches direkt an der Fessel angebracht werden muß.
The following two mechanisms do not rely on a local lock for security.
Flechten - Weaving
Mit Vorhängeschloß gesichterte geflochtene Ketten. Wenn Ketten mit der richtigen Kettengeometrie benutzt werden, können die Schlaufen nur von einer Seite aus wieder entflochten werden. Natürlich ist die Sicherheit des Vorhängeschlosses am Kettenende von Bedeutung.
Woven chains secured with a padlock. When using chains of the right geometry loops can only be unwoven from one side. For sure the security also hinges on the padlock used on the chain end.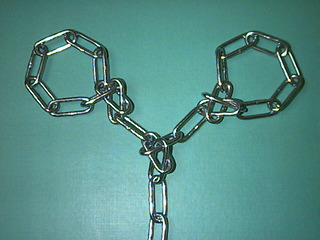 Um Handgelenke gelegt, ist diese Anordung solange sicher, wie das aus dem Bild führende Ende der Kette sicher verwahrt ist.
Put around the wrists, this assembly is secure as long as the chain leading out of the photo is securely cared for.
Kapselschloß - Cup Lock
Diese Schelle braucht kein Vorhängeschloß zum Verschließen, sondern ein Stück Kette. Man schließt die Schelle, schiebt die Kapsel über die beiden Zungen und fädelt dann eine Kette durch die kreuzförmigen Löcher. Die Kette hat am besten an einem Ende einen Klotz, der nicht hindurchpaßt. Das andere Ende muß natürlich gesichert werden, aber dies kann an entfernter Stelle geschehen.
Dann kann man die Kette nicht aus dem Loch herausziehen, die Kapsel geht nicht von der Schelle herunter, diese wiederum bleibt dadurch geschlossen.
Diese Art von Verschluß ist auf einer separaten Seite genauer beschrieben.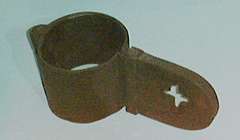 These kind of shackles do not need a padlock but a chain to lock shut. One closes the shackle, pushes the cup shaped piece over the two flat parts, and then passes a chain through the cross-shaped holes. The chain used may have a block at one end. The other end still has to be secured, but this can be done in a remote location.
Then you cannot pull the chain out of the hole, the cup cannot be taken off the shackle which in turn cannot be opened.
The functioning of this locking is described in more detail on a separate page.
---
Nichtreversibel - Non Reversible
| | | |
| --- | --- | --- |
| Hier sind nur nichtdestruktiv reversible Verschlußmechanismen besprochen. Eigentlich kein Thema dieser Seite sind Techniken wie Verkleben, Vernieten oder Verschweißen, auch wenn zu vernietende Eisen manchmal in Museen ausgestellt sind. | | The topic of this page are nondestructively reversible locking methods and mechanisms. So techniques like glueing, riveting or welding are not covered here although some museums display iron restraints which had to be riveted shut. |
---